Who are we?
Acting for Life is a French NGO founded in 1973 and dedicated to promoting international solidarity. We support economic and social development at local level in vulnerable communities. For 45 years, we have been working to reduce poverty by supporting the development of local organisations that can help overcome exclusion in Africa, Latin America, Asia and Oceania.
Acting for Life and its 55 local partners work to help over one million people each year earn a decent living from working their land. Read our latest annual and financial report
OUR APPROACH
Acting for Life has developed and put in place an original and rigorous partner-based approach for its economic and social development projects. Our approach can be broken down into the following five steps:
1. Local assessment and identification of needs
for a supply chain or sector, for the level of education and professional training or for access to public services.
2. Assessment and identification of local partners
to select the right local partners who will be involved in each step of the preparation of the jointly led project.
3. CREATION of innovative pilot projects
to assess the relevance of the action, its viability and the ability of the different actors to mobilise at local level and potentially develop larger-scale programmes.
4. Helping local partners become more autonomous
through technical, administrative and financial assistance with on-the-ground missions on a regular basis.
5. Independent evaluation of projects and experience-sharing
to share on-the-ground experiences for the benefit of all actors supporting development at international level.
€10.6m


Budget

26


Employees

4


Areas of expertise

22


Volunteer board members
Who are we working with?
Local partners

AMAP Togo

AMAP Togo is an association dedicated to preserving smallholder farming and was founded in 2011. It follows the system of local, solidarity-based partnerships directly linking farmers and consumers. It produces organic fruits and vegetables in the Plateaux and Maritime regions, and delivers baskets once a week to consumers at various distribution points in Lomé.

Fundación Alma

Fundación Alma is an organisation dedicated to protecting and preserving natural resources. With over 30 years of experience, the organisation is specialised in the sustainable management of wetlands, particularly in the drainage basin of the Magdalena River in northern Colombia.

CILSS

The Permanent Interstate Committee for Drought Control in the Sahel (Comité Permanent Inter-Etats de Lutte contre la Sécheresse dans le Sahel, or CILSS) was founded on 12 September 1973, following a period of severe drought in the Sahel in the 1970s. There are 13 member states: eight coastal countries (Benin, Ivory Coast, Gambia, Guinea, Guinea-Bissau, Mauritania, Senegal and Togo), four landlocked countries (Burkina Faso, Mali, Niger and Chad) and one island country (Cape Verde).

APESS-Nigeria

The Association for the Promotion of Livestock Farming in the Sahel and the Savanna (Association pour la Promotion de l'Élevage au Sahel et en Savane, or APESS) promotes rural development, and traditional livestock farming in particular. APESS offers its services to crop and livestock farmers, and to leaders and participants in various rural-development projects.

AJELAMO

The Association of Young Modern Crop and Livestock Farmers in Odienné (Association des Jeunes Éleveurs Agriculteurs Modernes d'Odiénné, or AJELAMO) encourages its members to look after and assist one another, and seeks to create the right conditions for developing and modernising crop and livestock farming in Odienné. It oversees the organisation, storage, processing and sale of agricultural products, and provides its members with affordable agricultural and veterinary products.

AEBRB

Association of Cattle Farmers in the Boukani Region (Association des Éleveurs de bovins de la Région de Boukani)

CONGAT / ICB

The Management Council in Support of Rural Areas/Local Initiatives for Sound Governance (Conseil Gestion Appui aux Territoires/Initiatives des Collectivités pour la Bonne gouvernance, or CONGAT/ICB) was founded in 1987. It promotes sustainable development through participative and inclusive consulting in areas such as local governance, the local economy and innovative alternatives in access to health services.

Hortitechs Développement

Hortitechs Développement is an NGO in Benin that was founded in 2005. It aims to promote:

the adoption of farming technologies (such as private irrigation) to make agriculture and horticulture more resilient to climate risks;
best practices for farming and production techniques for fruit, vegetable and flower production;
new alternatives for environmentally friendly organic production, such as integrated farming and organic horticulture;

the right conditions to support the development of competitive family-run horticulture businesses and promote urban and suburban farming.

AMAP Bénin

AMAP Benin is a cooperative that is dedicated to preserving smallholder and organic farming. It was founded in November 2008, and comprises 250 farmers over 40 hectares. It sells 300 fruit and vegetable baskets a week (3 tonnes of food) exclusively through short supply chains. An AMAP is an association that directly links farmers and consumers through short supply chains as part of a solidarity-based economic system. That system supports local farmers by pre-financing their harvest, and gives consumers access to seasonal products that were grown locally using techniques that are beneficial to nature and the environment.

ARFA

The Association for Research and Training in Agroecology (Association de Recherche et de Formation Agroécologique, ARFA) has been working in agroecology for a long time. It developed its agroecology expertise in Burkina Faso at a time when those practices were not generating much interest. Today ARFA is involved in other aspects of the Food-Security Programme in the Est region, particularly training the technical services of the Ministry of Agriculture in agroecology practices. It founded a company that produces organic inputs, which are indispensable to the development of those practices in the sub-region. It also develops supply chains, such as organic sesame.

Uvurkhangai Province

Authorities and organisations of local livestock farmers

Vétérinaires Sans Frontières-Belgium

Founded in 1985, Vétérinaires Sans Frontières-Belgium works with enterprising livestock farmers from disadvantaged communities in Africa, and gives them the means to lift themselves out of poverty. Thanks to animals, training, equipment and veterinary care, they are able to produce enough food for themselves and for the market.

Vanuatu Scuba Operators

Founded in 1995, the local association Vanuatu Scuba Operators in Efate comprises five member companies (Ahra Diving Shop, Big Blue, Nautilus, Sailaway Cruise and Hideaway Island Resort). Its main objective is to define a code of conduct to regulate relations between diving companies. It is through this association that they decide to keep exclusive rights to their anchorages or to share them with other members. The association carries out initiatives to raise awareness, mitigate climate risks and protect coral reefs.

GRADSE

The Action Research Group for Socio-economic Development (Groupe de Recherche-Action pour le Développement Socio-Économique, or GRADSE) is a Togolese association that was founded in 1998. It operates in the Centrale and Kara regions in the following areas: organisation of farmers, agroecology, food and nutritional security, sustainable farming, community health, microfinance and human rights.

University of Dili

The National University of East Timor, based in the East Timorese capital Dili, is the major institution of higher education in East Timor.

Mongolie Aventure

Mongolie Aventure (formerly Otgodoor) is a travel agency, founded in 2009 by Otgoo Gombo, that specialises in discovery and adventure tourism in Mongolia. Its goal is to improve tourist accommodation in the Orkhon Valley in order to boost the economic, social and educational impact of tourism on the local population.

CPMCT-Nègè Blon

The Centre for the Promotion of Sheet Metalwork and Pipework (CPMCT-Nègè Blon) is an association in Mali that has been recognised by the authorities since 2008. It aims to promote work/study apprenticeships in metalwork trades in Mali. Since 2009, 319 people have received training through different programmes, with over 60% of apprentices finding work after the programme. Other partners have teamed up with CPMCT-Nègè Blon, particularly the Chamber of Commerce and Industry (Chambre de Commerce et d'Industrie) in Mali and the Industrial Employers' Organisation (Organisation Patronale des Industries).

Corporación Esmeraldeña para la Formación y Desarrollo Integral (CEFODI)

Corporación Esmeraldeña para la Formación y Desarrollo Integral was founded in 1993 and has been partnered with Acting for Life since 2017. The organisation has strong local roots in the province of Esmeraldas. Its areas of focus include: supporting rural development through the promotion of family farming and access to water and sanitation, and supporting the development of community-based tourism.

Instituto Mayor Campesino (IMCA)

Instituto Mayor Campesino was founded in 1962. It trains smallholders from Cauca Valley and encourages them to participate in public and private forums for discussion. During the 1990s, as the armed conflict in the region intensified, IMCA worked to come up with alternatives to help people live peacefully. Today, IMCA continues its efforts by supporting agroecology.

OCADES Burkina/Bobo-Dioulasso

An OCADES is a type of Catholic organisation that promotes development and solidarity. There are 15 OCADES in Burkina Faso. OCADES Burkina/Bobo Dioulasso, in the Hauts-Bassins region, develops education-related projects, particularly in the areas of hydraulics and agriculture. It has founded its own agricultural training centre. The organisation is a partner of the Raising Employment Access and Development for Youth (READY) project.

Tin Tua

Tin Tua is an organisation with strong rural roots that has been promoting sustainable development through literacy, educational innovation and training since 1989. It has been active in solar power for over ten years, founded an agricultural training centre and developed its own modules to support entrepreneurship.

URFBV

The Regional Union of the Livestock-Meat Sector (Union Régionale de la filière Bétail Viande, or URFBV) in Sikasso is a union of 111 cooperatives throughout the region's seven cercles. It was founded in 1995 and currently has 3,271 members, including 71 women. Its main activity is to develop the farming and marketing of livestock. Its members include livestock farmers, sellers, finishers, dairy producers and hide and leather merchants.

FONDO PAEZ

Fondo Paez is an organisation that was founded in 1992. It is active in the centre-east of the Cauca department in Colombia, and comprises 514 small-scale farming families from the indigenous Nasa community. Fondo Paez is dedicated to helping families grain greater autonomy through a holistic approach to agriculture.

PUENTE SALUD

Founded in 2013 by two American volunteers, Puente a la Salud Comunitaria is an NGO that was initially dedicated to improving eating habits and reintroducing amaranth into the local diet because of its nutritional richness and resilience to climate conditions. The organisation currently has some thirty employees and is active in two regions. Its three main areas of focus are: promoting the agroecological production and consumption of amaranth, creating micro-businesses for processing products and regional amaranth networks to aggregate the added value of amaranth, and helping producers become integrated into the market by influencing public policy.

INADES

The African Institute for Economic and Social Development – African Training Centre (Institut Africain pour le Développement économique et social – Centre Africain de Formation, or "Inades Formation") was founded in Abidjan in 1962. Inades Formation-Burkina Faso is a national NGO that has been integrated into the international network of 10 African countries. Inades Formation-Burkina Faso's areas of focus include: agricultural development, decentralisation, promotion of local consumption, management of natural resources, rural funding and smallholder communication.

Ghana Venskabsgrupperne (GV)

GV is a development organisation that supports equality and development in the northern region of Ghana. It helps local communities, women and young people band together and defend their rights. Its work focuses on improving food security and living conditions, promoting the right to high-quality education and helping young people become more autonomous.

Technical and Vocational School of Bandiagara (ETP/BA)

The Technical and Vocational School of Bandiagara (Ecole Technique et Professionnelle de Bandiagara) is a private school offering the "CAP" certificate of professional competence and the "BT" technician's diploma in masonry. It is in charge of all pedagogical activities involving students.

Centre for Indigenous Knowledge and Organisational Development (CIKOD)

The Centre for Indigenous Knowledge and Organisational Development is an NGO that seeks to develop methods for strengthening traditional authorities and civil-society organisations in order to facilitate sustainable development that gives a voice to poor and vulnerable rural families.

Ghana Developing Communities Association (GDCA)

Ghana Developing Communities Association is an NGO that provides people in northern Ghana who live in poor communities or who are socially excluded with the means to work for social, political and economic development, and to adopt healthy environmental practices for a sustainable way of life.

PDCO

Promoting Community Development (Promotion pour le Développement Communautaire, or PDCO) is an NGO in charge of local activities (bringing together community members to set up a field-school, institutional coordination) and the socio-economic integration of young people. It works with the Technical and Vocational School of Bandiagara (ETP/BA), a private school offering the "CAP" certificate of professional competence and the "BT" technician's diploma in masonry. ETP/BA is in charge of all pedagogical activities involving students. The MISELI research organisation is in charge of studying the social-protection system.

TASSAGHT

TASSAGHT has solid on-the-ground experience in northern Mali and strong skills in capacity-building when it comes to working with decentralised local authorities. An important partner of Acting for Life, TASSAGHT helps carry out projects and organises initiatives through social networks and through its relations with local leaders, institutional actors and representatives of the police and armed forces.

ICD

Initiatives-Consulting-Development (Initiatives-Conseils-Développement, or ICD) is a Malian NGO that has been promoting rural development in Mali since 2001. It works with small farmers (both men and women) and their organisations to: promote access to services for crop and livestock farming and access to the market; improve food security and nutrition; manage natural resources and support pastoralism. It also facilitates cooperation between actors in agricultural sectors.

Citizens' Association for the Defence of Children's and Women's Rights (Association Citoyenne pour la Défense des Droits des Enfants et des Femmes, or ACIDEF)

GNAP

The National Group of Pastoral Associations (Groupement National des Associations Pastorales, or GNAP) was founded in 1990 after a meeting between pastoral associations. It comprises 45 pastoral associations, 2,885 certified cooperatives and 10 regional offices. GNAP works with pastoral associations to supply inputs (animal food and veterinary products), build amenities and pastoral infrastructure (market, well, vaccination pen, etc.) and ensure coordination between stakeholders (securing routes, managing markets, etc.).

GAJEL

The Cultural Action Group for Young Livestock Farmers (Groupement d'Action Culturelle des Jeunes Éleveurs, or GAJEL-Sudubaba) is an organisation that was founded in Niger in 1998. It works to promote economic and cultural development for crop and livestock farmers.

AREN

The Association for the Revitalisation of Livestock Farming in Niger (Association pour la Redynamisation de le L'Elevage au Niger, or AREN) seeks to improve the lives of pastoral livestock farmers by helping them overcome challenges relating to land, conflict management and development. Its goal is to help those farmers represent themselves and defend their rights in national and international debates, and to help them get involved in policies and activities relating to development.

RBM-Senegal

The Billital Maroobé Network (Réseau Billital Maroobé, or RBM) is a network of livestock farmers and pastoralists in West Africa, founded in 2003 by three livestock-farmer organisations: CRUS (Burkina Faso), TASSAGHT (Mali) and AREN (Niger). RBM defends the interests of its members. Its goal is to secure the pastoral economy by encouraging and supporting initiatives to group together and adopt technical innovations, while working to restore the balance between ecology and herd numbers. RBM has several branches: Benin, Burkina Faso, Mali, Mauritania, Niger, Nigeria, Senegal, Chad and Togo.

Communità Impegno Servizio Volontariato (CISV)

CISV is a community-based non-profit organisation founded in Turin in 1961. It is independent and non-religious. It carries out international-cooperation projects to help local communities become drivers of their own development, by helping smallholder organisations and civil society promote human rights and eliminate the causes of poverty and inequitable wealth distribution.

OADEL

The Organisation for Local Foods and Development (Organisation pour l'Alimentation et le Développement Local, or OADEL) was founded in 2003. A member of the Federation of NGOs in Togo (Fédération des ONG au Togo) and the Collective of Associations Against Impunity in Togo (Collectif des Associations Contre l'Impunité au Togo), OADEL is dedicated to promoting people's right to food through the consumption of local processed foods. It is active mainly in the Lomé and Maritime regions. Its areas of focus include: educating people about the right to food and nutrition; promoting and implementing new approaches to ensuring the right to food; combating policies and practices that infringe upon the right to food; promoting sustainable family farming and food sovereignty through local consumption.

FENAPFIBVTO

The National Federation of Professionals in the Livestock and Meat Sector of Togo (Fédération Nationale des Professionnels de la Filière Bétail et Viande du Togo, or FENAPFIBVTO) strengthened the capacities of its members, particularly by developing offices throughout the country.

RBM

The Billital Maroobé Network (Réseau Billital Maroobé, or RBM) is a network of livestock farmers and herders in West Africa, founded in 2003 by three livestock-farmer organisations: CRUS (Burkina Faso), TASSAGHT (Mali) and AREN (Niger). RBM defends the interests of its members. Its goal is to secure the pastoral economy by encouraging and supporting initiatives to group together and adopt technical innovations, while working to restore the balance between ecology and herd numbers. RBM has several branches: Benin, Burkina Faso, Mali, Mauritania, Niger, Nigeria, Senegal, Chad and Togo.

Fundación Colombia Nuestra

Partnered with Acting for Life since 2008, Fundación Colombia Nuestra (FCN) is an NGO that was founded over 40 years ago. Its aim is to gain recognition for the rights of indigenous and Afro-Colombian groups. Based in the Cauca region in the centre-east of the country, FCN has sound experience supporting farmer organisations. For instance, it was instrumental in the development of a supply chain for fair-trade coffee with the Fondo Páez farmer organisation, and in the intercommunity sale of local produce (kidney beans, coffee, quinoa and panela).

SOS Faim-Belgium

SOS Faim is a Belgian development NGO that was founded in 1964. It is dedicated to fighting hunger and poverty in rural Africa and Latin America. For over 20 years, SOS Faim has been supporting family farming in rural areas of six different provinces in Ecuador where poverty is particularly high. The NGO works with a network of savings and loans cooperatives and with a local NGO called CEPESIU.

Centro de Promoción del Empleo y Desarrollo Económico Territorial (CEPESIU)

CEPESIU is an organisation dedicated to helping vulnerable rural communities, with over 30 years of experience. Structured as a network and active in ten provinces, it helps develop supply chains, create rural businesses and provide rural communities with access to financial services that are adapted to their needs through the promotion of community-run investment entities.

Sierras Verdes – AMUCSS group

Redsol Agrícola (Red Solidaria de micro seguros sociales)

The Redsol Agrícola insurance fund was created in 2011 on the initiative of AMUCSS and began its operations in early 2012. It is a fund whose members (farmer organisations) participate in decision-making at the annual general meeting. It operates in five Mexican states: Oaxaca, Chiapas, Puebla, Veracruz and Guerrero.

Asociación Mexicana de Uniones de Crédito del Sector Social (AMUCSS)

Founded over 20 years ago, AMUCSS and its network are active in 22 Mexican states, developing products and services in micro-finance and micro-insurance for vulnerable rural communities. Its network includes 96 micro-finance institutions, one local economic-development agency (Sierras Verdes) and one training institute (IMFR) that offers training in micro-finance and education.

Asociación Jesús Obrero (CCAIJO)

Asociación Jesús Obrero (CCAIJO) is a social initiative that was started by the Peruvian Jesuits over 40 years ago to help improve the living conditions of rural communities in the Quispicanchi department, in the Cuzco region. CCAIJO specialises in economic development, nutrition, housing, education, environmental preservation and local governance.

Cambodian Ministry of Tourism

The Cambodian Ministry of Tourism is in charge of working with companies in the tourism industry to ensure that they comply with global industry best practices, and mobilising communities near tourist areas. Several years ago, the Ministry developed the "Clean City" programme in collaboration with Acting for Life. The programme aims to create the right conditions for the development of tourism. The programme has given rise to initiatives in nature-conservation areas and at coastal tourist resorts, including a coral-protection initiative.

O'Rizon

O'Rizon-Ivory Coast is an NGO that has been carrying out projects since 2013 to support farming in Ivory Coast. It has extensive local expertise and works in the western part of the country, where it provides inputs and rice, corn and manioc seeds to small farmers. Its goal is to help small farmers gain greater autonomy, and to help them sell the food they produce by structuring them into groups.

LVIA

The International Association of Non-Denominational Volunteers (Association Internationale Volontaires Laïques, or LVIA) is an organisation dedicated to international solidarity and cooperation. It promotes fair and sustainable development, dialogue between Italian and African communities, and local and global change to combat extreme poverty.

Regional Council of the Unions of the Sahel (Conseil Régional des Unions du Sahel, or CRUS)

RECOPA (Communication Network on Pastoralism)

The Communication Network for Pastoralism has a multi-actor approach and aims to create and stimulate relationships between herders, local rural communities and authorities to address issues relating to pastoralism. The network focuses mainly on aspects that are intangible but nevertheless very important. Those aspects play a key role in the development of pastoralism.

GIC

Founded in 2004, the Collines Intercommunal Group (Groupement Intercommunal des Collines, or GIC) comprises the six towns of the Collines department in Benin. It was created because elected officials and residents wanted to build a common vision for the development of their region. GIC helps pool resources for projects that promote shared interests, and helps the towns plan for development in a way that includes all members of the community.

ANOPER

The National Association for Professional Organisations of Ruminant Farmers (Association Nationale des Organisations Professionnelles des Éleveurs de Ruminants, or ANOPER) is a smallholder organisation comprising 35,000 livestock farmers in 48 towns in Benin, representing 75% of the country. It aims to improve living and working conditions for livestock farmers through the modernisation and sustainable development of ruminant farming.

ACAD

The Association for the Atacora and Donga Regions (Association des Communes de l'Atacora et de la Donga, or ACAD) works with Acting for Life to organise agro-pastoral programmes. ACAD wants to develop a programme to support training in stonework, similar to the programme in Togo. ACAD's role in capacity-building and interfacing with the 13 towns within its association allows it to carry out local initiatives and support the development of the stonework sector in northern Benin.

Gestion de l'Environnement et Valorisation des Produits Agropastoraux et Forestiers (GEVAPAF)

GEVAPAF is a Togolese NGO founded in 2011 that specialises in sustainable development, agroecology and the promotion of local resources. It has sound experience in project management and organising local initiatives. With regard to professional training and occupational integration, GEVAPAF has worked with the Ministry of Grassroots Development, Skilled Trades, Youth and the Employment of Young People and has been recognised as an intermediary organisation for the implementation of the Programme to Support Grassroots Development. The local authorities will help co-finance public works. The Interprofessional Group of Artisans in the Savanes Region of Togo (GIPATO) helps select and assess the training. The Regional Centre for Technical Teaching and Professional Training (CRETFP) will make its infrastructure available for the training. All of those partners will make up the project's monitoring committee.

OPEF

The Professional Organisation of Livestock Farmers in Ferkessedougou (Organisation Professionnelle Des Éleveurs De Ferkessedougou, OPEF) is dedicated to improving the living and working conditions of livestock farmers and transhumant pastoralists. It works to improve the health of livestock and herds, and teaches livestock farmers about best practices.

APAPE-PH (Association for Pastoralism, Agro-Pastoralism, Livestock and Human Promotion)

APAPE-PH, has experience in supporting vocational training, local development and eco-construction. In addition to its mission to support pastoralism and natural resource management in connection with AFL's activities in this field, it also promotes human development and is particularly concerned with supporting youth in a region plagued by security problems.

APESS-Burkina Faso (Association for the Promotion of Livestock in Sahel and in Savane)

The Association for the Promotion of Livestock in Sahel and in Savane (APESS) works in the field of Rural Development, particularly in the traditional livestock sector. APESS offers its services to stockbreeders and farmers, but also to those responsible for and involved in various rural development projects. APESS is the lead applicant on this project.

JRS (Jesuit Refugee Service)

The Jesuit Refugee Service (JRS) is an organisation whose mission is to accompany, serve and defend the interests of refugees and displaced persons so that they can heal, learn and determine their own future.

GRDR

The Groupe de Recherche et de Réalisations pour le Développement Rural carries out development actions in the countries of departure, transit and host countries (West Africa, Maghreb and France). Its areas of intervention are: migration and human mobility, rural development and natural resource management, support for decentralization, socio-professional integration and entrepreneurship and the fight against discrimination.

Diapalante

Diapalante accompanies young people in difficult situations towards professional integration in environmental and sustainable development professions by means of an integration and training scheme as well as entrepreneurial support. In order to enable them to reintegrate into social life through professional activities, the Diapalante Center welcomes young people between 15 and 25 years old in very precarious situations.

Financial partners

Eurocopter Foundation

The Eurocopter Corporate Foundation has partnered with Acting for Life for the Sierras Verdes project, which seeks to improve the food security of families in rural areas and indigenous communities in Mexico. The three-year partnership has allowed Eurocopter employees in Mexico to carry out an initiative in the Pahuatlán region in order to learn about and understand the issues that small-scale Nahuatl coffee farmers face in the Puebla region.

Motul Corazón Foundation

The Motul Corazón Foundation was founded in 2011, under the aegis of Fondation de France, to help young people who are disadvantaged or in difficult situations. The foundation supported an Acting for Life project in Mali to provide training in stonemasonry and help the trainees find jobs.

Roissy Pays de France Agglomeration Community

In 2017, the Roissy Pays de France Agglomeration Community (CARPF) and Acting for Life decided to team up for a multi-year partnership. The geographic proximity of the two entities and their shared vision of the issues of international solidarity led to their decision to launch the partnership. CARPF is committed to supporting the economic and local development of vulnerable communities in Latin America and West Africa.

Fondation de France with CFSI

Fondation de France is a long-standing partner of Acting for Life and has supported our work in various regions of the world since our founding. Acting for Life receives support through the Programme to Support Family Farming in West Africa for its work in Togo. Fondation de France, in partnership with the French Committee for International Solidarity (CFSI), promotes the initiatives of African and international organisations aiming to develop sustainable and dynamic family farming to feed West Africa's fast-growing cities.

Ditumba Foundation

The Ditumba Foundation provides funding for the professional training of disadvantaged young people, primarily in sub-Saharan Africa (Burkina Faso). Since 2017, it has been supporting Acting for Life's project to improve vocational training and occupational integration for young people in Burkina Faso, in three key sectors of the local market: solar power, plumbing and farming.

Caritas France Foundation

The Caritas France Foundation has been dedicated to reducing poverty and exclusion since 2009. It has supported a number of Acting for Life's projects, particularly in Africa, on issues such as vocational training and occupational integration. It has a particular interest in this area, and works with Acting for Life in its efforts to improve training programmes in West Africa.

Denibam Foundation

Denibam is a private foundation whose mission is to carry out projects to help strengthen families and society in France and abroad, particularly in terms of education, jobs, culture, health and assistance to people in difficulty. Denibam is a family foundation and is placed under the aegis of the AnBer Foundation, which has been recognised as an organisation serving the public interest.

AnBer Foundation

The AnBer Fondation is a loyal, long-standing partner of Acting for Life. This private foundation, recognised as an organisation serving the public interest, is dedicated to reducing poverty by supporting projects in health, education, employment and reducing destitution. Its founders are always open to supporting innovative approaches to job creation and local entrepreneurship for marginalised communities, and have supported many projects in Africa, Latin America and Asia covering our four strategic areas of focus.

Servair

As the French leader in catering and airline logistics, Servair has been supporting Acting for Life for several years. This company of 10,000 employees is committed to helping Acting for Life in its work to promote development, and supports its projects in Africa to improve nutrition and develop family farming.

Groupe ADP

Groupe ADP is a world leader in the design, construction and operation of airports. A long-standing partner of Acting for Life, Groupe ADP supports the team and its projects by providing office space at the Le Bourget airport. This partnership is vital to the stability and longevity of our work.

Air France

Air France has been a partner of Acting for Life for over 40 years. Its long-term partnership in Africa, Latin America and Asia has been focused on setting up programmes to support economic and local development, small crop and livestock farmers, vocational training and occupational integration in the communities that need it most. Through its generous support, Air France has made it possible to conduct studies and launch local projects with innovative approaches allowing for bigger programmes to be launched subsequently with public institutional partners.

Norwegian Agency for Development

The Norwegian Agency for Development Cooperation (NORAD) is part of the Norwegian Ministry of Foreign Affairs. Its main areas of expertise are education, the environment, adapting to climate change, promoting democracy, access to health and renewable energies. NORAD has been supporting Acting for Life since 2017 for its projects to promote training and occupational integration in Burkina Faso, in three key sectors on the local market.

Department for International Development

The Department for International Development (DFID) is a UK government department that provides humanitarian and development aid. It supports sustainable development and helps reduce poverty around the world thanks to funding from UK aid. Renowned for its expertise in the Sahel region, Acting for Life has been receiving support from DFID since 2013 for its livestock-mobility projects in West Africa.

European Union

The European Union's EuropeAid programme develops policies to reduce poverty and promote sustainable development, democracy, peace and security. The European Union has been a partner of Acting for Life for several years, supporting projects in Africa and Latin America covering all of our areas of expertise.

Agence Française de Développement

A public institution at the core of France's development-aid system, the French Development Agency (Agence Française de Développement, or AFD) has been working since 1941 to reduce poverty and promote development. AFD is a long-standing financial partner of Acting for Life in Africa and Latin America. Thanks to its support, AFD helps bring to life large-scale regional and national programmes in strategic areas for Acting for Life. These include creating training programmes and focusing on issues relating to local economic development in connection with the agropastoral sector in the Sahel region.

Institutional partners

Pastoralist Knowledge Hub

The Pastoralist Knowledge Hub is a repository of technical excellence on pastoralism and pastoral people's livelihoods, as well as a neutral forum for promoting exchange and alliance among pastoralists and stakeholders working on pastoralist issues.

CELEP

The Coalition of European Lobbies for Eastern African Pastoralism is an informal coalition of European members and East African partners focusing on communication, knowledge management and lobbying in favour of pastoralism in East Africa.

The members of the Coalition work together to lobby their national governments, European Union bodies and other policy-formulating bodies/agencies in Europe to explicitly recognise and support pastoralism (and pastoralists) in East Africa.

NCG

Nordic Consulting Group is a company specialised in international development. Over the past several years, NCG's experts on development in the Sahel region have been assisting us in programmes to make pastoral and agropastoral systems in West Africa more resilient.

CIRAD

The French Agricultural Research Centre for International Development (Centre de Coopération Internationale en Recherche Agronomique pour le Développement, or CIRAD) is involved in international cooperation to promote sustainable development in tropical and Mediterranean regions. It is a major research institute dedicated to rural development and works with a number of large networks specialising in rural development. CIRAD works with us and our partners to help design and distribute tools for advocacy and training, particularly with regard to issues concerning livestock-farming systems in the Sahel.

ARED

Associates in Research and Education for Development (ARED) is an international non-profit organisation whose mission is to promote quality education in African languages for local communities through training, publishing, teaching innovations and research. An Acting for Life partner for 15 years, ARED-Senegal trains adults and organises public debates between multiple actors, using innovative teaching methods developed since 1998.

AADH

AADH coordinates the provision of free and confidential legal services for NGOs, non-profit organisations and institutions dedicated to the protection of human rights, regardless of whether they are national or international in scale (provided they have been pre-approved by the board of directors).

Membership networks

Coordination Humanitaire et Développement

Founded in 1983, Coordination Humanitaire et Développement (CHD) is a group of 46 French international-solidarity organisations. Those organisations are engaged in humanitarian relief, reconstruction and development projects throughout the world. CHD is a founding member of Coordination SUD.

Coordination SUD

Founded in 1994, Coordination SUD is France's national network of 164 NGOs dedicated to international solidarity. Roughly one hundred of those NGOs are members via six groups: CLONG-Volontariat, Cnajep, Coordination Humanitaire et Développement, Crid, Forim and Groupe Initiatives. The network's NGOs are engaged in humanitarian relief, development assistance, environmental protection and defence of human rights in disadvantaged communities, as well as civic education and advocacy.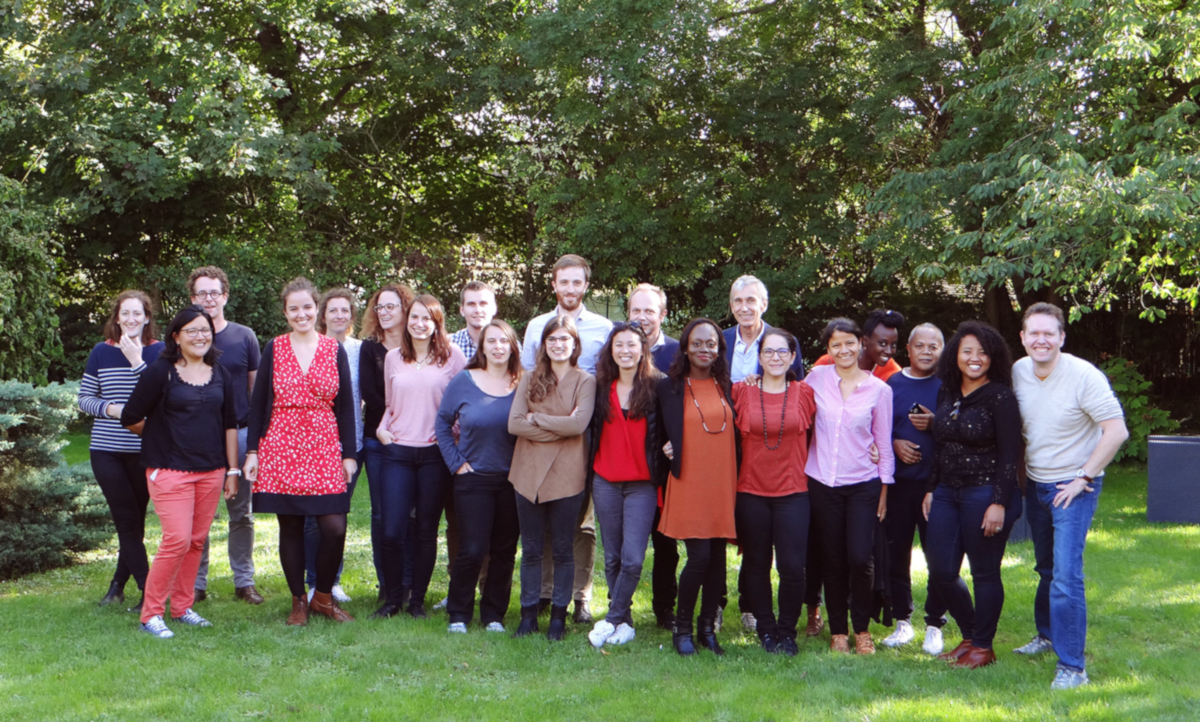 Team and governance
26


Employees
Acting for Life is a team of dedicated individuals with a wide range of complementary skills. We have extensive local knowledge in the communities where we carry out our projects, vast experience in our areas of expertise and a sound grasp of regional development models allowing us to offer efficient solutions. We are constantly in contact with our local partner organisations, many of whom are in isolated areas and lack access to training and information. We work with them in the field on a regular basis to monitor our jointly led projects and perform rigorous checks regarding management.
Thanks to the support of Groupe ADP, our organisation's head office is located at the Le Bourget airport. We made the choice not to open any offices abroad, which sets us apart from other international-solidarity organisations. We did so in order to give our partner organisations as much autonomy as possible and the greatest chance of success.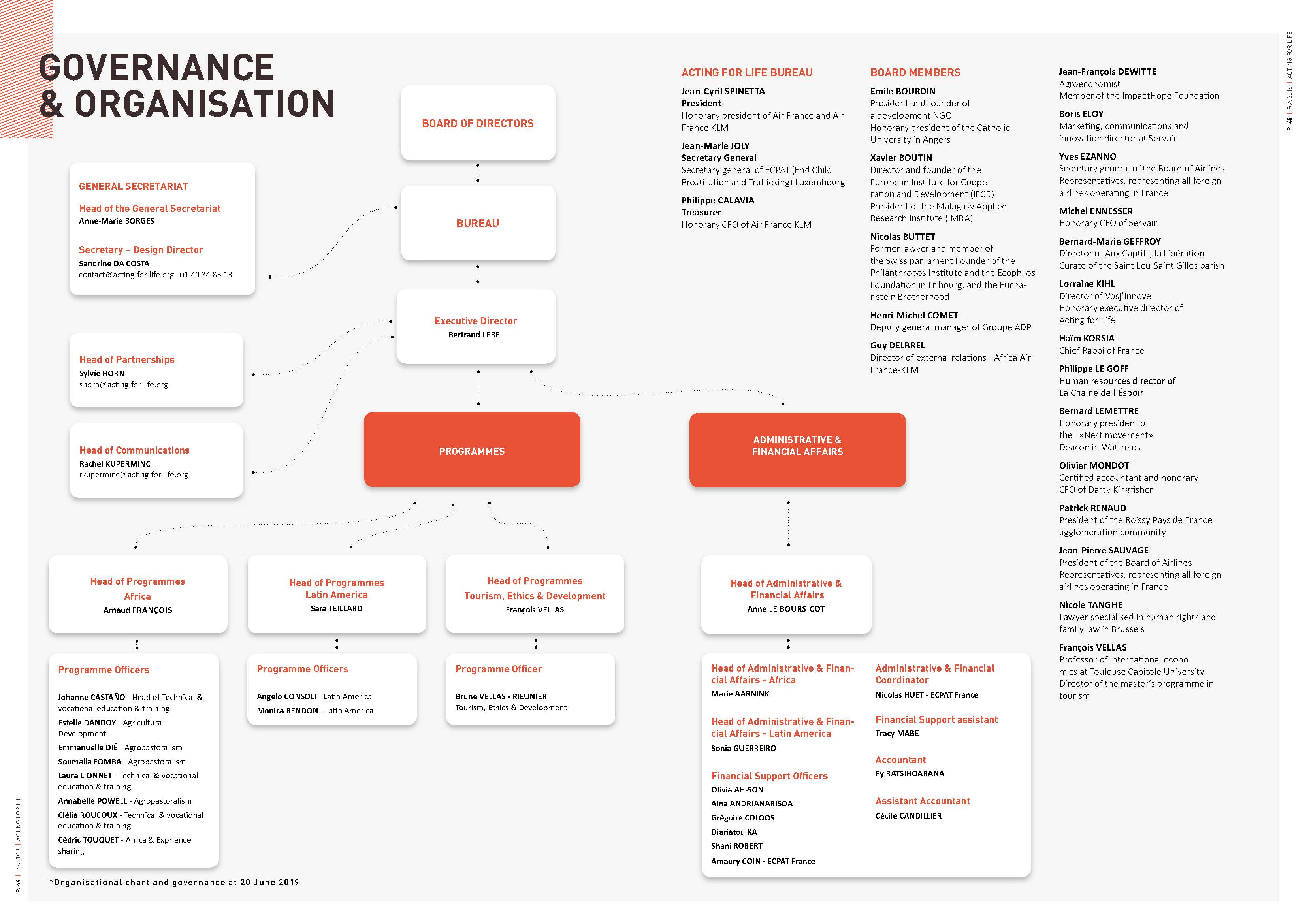 22


Volunteer administrators
Governance
Acting for Life is a non-profit organisation governed by the French Law of 1901. We have been recognised since 2002 as an entity serving the public interest, and that recognition from the public authorities is a testament to the relevance and transparency of our work.
Our Board of Directors has 22 members, most of whom have a background in the airline industry and solidarity work. The president of the Board is Jean-Cyril Spinetta, former CEO of Air France-KLM.
The Board of Directors defines and implements the organisation's orientations and strategy, ensuring that its projects run smoothly and that it is being managed sustainably.

Jean-Cyril SPINETTA
President
Honorary president of Air France and Air France-KLM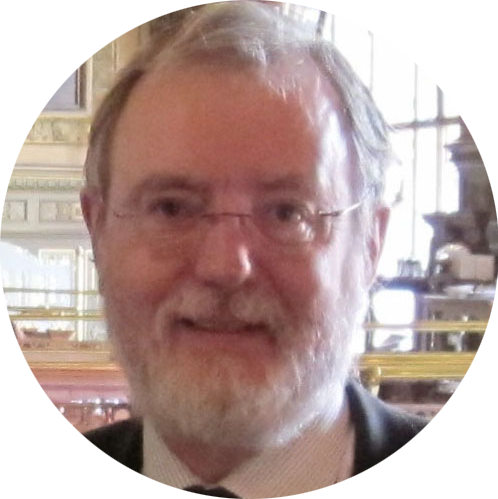 Jean-Marie JOLY
Secretary General
Secretary general of ECPAT-Luxembourg (End Child Prostitution and Trafficking)

Philippe CALAVIA
Treasurer
Former CFO of Air France-KLM
Emile BOURDIN
President and founder of a development NGO Honorary president of the Catholic University in Angers
Xavier BOUTIN
Director and founder of the European Institute for Cooperation and Development (IECD) President of the Malagasy Applied Research Institute (IMRA)
Nicolas BUTTET
Former lawyer and member of the Swiss parliament Founder of the Philanthropos Institute and the Ecophilos Foundation in Fribourg, and the Eucharistein Brotherhood
Henri-Michel COMET
Deputy general manager of Groupe ADP
Guy DELBREL
Director of external relations - Africa at Air France-KLM
Jean-François DEWITTE
Agroeconomist Member of the ImpactHope Foundation
Boris ELOY
Director of marketing, innovation and development of new markets
Michel ENNESSER
Honorary CEO of Servair
Yves EZANNO
Secretary general of the Board of Airlines Representatives, representing all foreign airlines operating in France
Bernard-Marie GEFFROY
Director of Aux Captifs, La Libération Curate of the Saint Leu-Saint Gilles parish
Lorraine KIHL
Director of Vosj'Innove Honorary executive director of Acting for Life
Haïm KORSIA
Chief Rabbi of France
Philippe LE GOFF
Human resources director of La Chaîne de l'Éspoir
Bernard LEMETTRE
Honorary president of the "Nest Movement" Deacon in Wattrelos
Olivier MONDOT
Certified accountant and honorary CFO of Darty Kingfisher
Patrick RENAUD
President of the Roissy Pays de France agglomeration community
Jean-Pierre SAUVAGE
President of the Board of Airlines Representatives, representing all foreign airlines operating in France
Nicole TANGHE
Lawyer specialised in human rights and family law in Brussels
François VELLAS
Professor of international economics at Toulouse Capitole University Director of the master's programme in tourism
Our history
1973
With countries in the South facing major economic and social challenges, airline-industry workers teamed up with company executives to found GARD, or Groupe d'Aide aux Réfugiés et personnes Déplacés ('support group for refugees and displaced persons'). The association carried out projects to promote solidarity in Haiti, Gabon, Cameroon and Equatorial Guinea.
1979
Creation of GARD's French branch: an international office to assist budding NGOs in the South in areas such as project support, funding and development engineering.
1981
GARD France becomes Groupe d'Aide aux Réalisations pour le Développement ('support group for development work') and sets up long-term development programmes in countries in the South.
1992
GARD becomes Groupe Développement ('development group') with the motto: la vie, pas la survie ('not just survival, but life').
1994
At the request of ECPAT International (End Child Prostitution and Trafficking), which comprises 90 specialised NGOs, Groupe Développement adds a new social objective to its areas of focus: prevention of sexual abuse and violence against children.
2002
Groupe Développement is recognised in France as an organisation serving the public interest.
2009
To boost its visibility at international level, Groupe Développement becomes Acting for Life: La Vie, Pas La Survie.
2011
Acting for Life transfers its child-protection projects to ECPAT-France (founded in 1997) in order to focus on its projects in support of local organisations and local economic development.
2018
45 years after its founding, Acting for Life continues to work with its partners in the South in order to reduce poverty by stimulating economic and social development.
Stay informed
Subscribe to our newsletter